New Haven Crash Injury Risk Heightened in Winter
At least once every day since the beginning of December, there has been at least one, multiple-vehicle pile-up somewhere in the country, according to a recent USA Today analysis.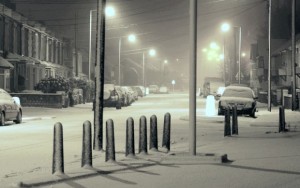 That includes the recent  27-car pile-up on I-95 in Greenwich that resulted in six injuries and led to a three-hour closure of the Interstate. (You may also recall a few years ago when state route 110 was the site of a 50-car pileup, also in December, in which 46 people were injured.)
The New Haven personal injury lawyers at the Law Offices of Mark E. Salomone & Morelli recognize that harsh winter weather conditions are largely to blame. However, we can't discount the fact that far too many drivers don't respond appropriately to driving conditions.
Some venture out on bad roads, despite the fact that their travel is unnecessary. Some fail to ensure their vehicle is prepared for the conditions (i.e., proper tire inflation, enough windshield wiper fluid, working brakes, etc.). But beyond that, some motorists don't tailor their driving to the conditions. Specifically, drivers don't slow down enough.
Many forget that the posted speed limit is made in consideration of optimal driving conditions. If the roads are wet, snowy or icy, people have to drive defensively. That involves allowing more distance from the vehicle in front of you, and more time to stop if you need to do so.
Multi-Vehicle Crashes Happen Quickly
Recently, video from a traffic camera in Wisconsin captured a winter weather pileup in real time. The reel shows three lanes of heavy traffic moving fairly slowly through heavy snow. But then, several vehicles traveling faster than all the rest speed past. They skid. They collide. They block the road. Soon after, several other vehicles traveling too fast for the conditions slam into those vehicles. Within a matter of seconds, police say some 70 vehicles are involved in the crash.
In some cases, these incidents result in deaths. More frequently, they end in serious injuries that necessitate astronomical medical expenses, lost wages and vehicle damage. A 2002 study by the National Highway Traffic Safety Administration indicated that the average crash with a critically injured survivor costs about $1.5 million total.
A more recent calculation by AAA indicated that the cost of a fatal crash is roughly $6 million, while an injury-only wreck costs, on average, $126,000. (The disparity between the $1.5 million and $126,000 figures can be explained by noting that not all crashes result in permanent or serious injuries; The $126,000 figure is the average for all injuries, not just those that are critical.)
Still, the costs are sizable no matter how they are calculated.
For the victims, these cases can be difficult from a liability standpoint. A lot of times following a multiple-vehicle crash, insurance companies will conduct their own investigations, side-by-side with police, to determine which parties were at-fault. However, untangling chain reaction incidents can be tough, and it is sometimes impossible to figure out who was the first to make a mistake.
What you can bet on, though, is that insurance companies are out to reduce their own liability however they can. This is why anyone involved in a multi-vehicle accident should contact an experienced accident attorney as soon as possible.
Given the high costs of involvement in such an incident, it's in your best interest to have an experienced advocate on your side from the start.
Contact the New Haven Law Offices of Mark E. Salomone & Morelli by calling 1-800-WIN-WIN-1 or visiting www.salomoneandmorelli.com.
Tags: New Haven car accident lawyer, New Haven car accidents, New Haven crash, New Haven crash injury lawyer